Show me the data!
Colleague,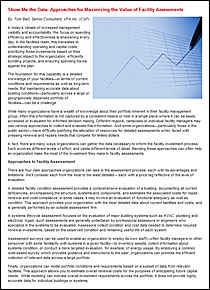 In today's climate of increased management visibility and accountability, hard data forms the basis of decision making on investments in capital improvements and infrastructure.

How can you gather detailed data about your facilities—both current conditions and requirements as well as long-term needs? This article describes four main approaches organizations can take to the assessment process, each with advantages and limitations and price tags reflective of the level of evaluation.

When you download the article, you'll also gain access to a recorded webinar, Leveraging Facilities Data for Strategic Capital Planning, where we present a range of data collection approaches, tools, and metrics your organization can use to maximize the usefulness of facilities data for strategic decision making.

To download the article and webinar, please confirm the information on this registration form and fill in missing fields.